All inclusive art holidays in the heart of Italy
Gorgiano Studios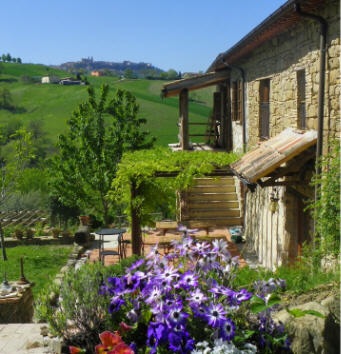 We offer Art holidays to suit everyone, whatever their level of experience in whichever medium.
Our group size is small, enabling us to remain flexible in terms excusions and projects, as well as offering plenty of one to one tuition.
With authentic Italian cuisine, and a beautiful location you can really enjoy an artistic holiday in Italy, explore this delightful region and indulge your creative side.
In Le Marche you will find everything that you love about Italy, beautiful views and renaissance towns unspoilt by tourism. Sited in the cooler air of the Sibilini Mountains, our climate is hot and sunny but escapes the scorching heat and dryness of Southern Italy, and we are still only 30 minutes from the sea.
If you are particularly interested in exploring the area we recommend our Sketching and Journaling course which involves lots of day trips and offers a unique Italian experience.
Non painting partners are also welcome at a 30% discount and there is plenty for them to do and discover. If Giottos, sunshine and ice cream are simply not enough we can also arrange cookery, Italian, or yoga lessons..
Due to the popularity of our Sketching and Journaling Holiday, we have added an additional course running 6th-14th October. Timed to coincide with the grape harvest the holiday will involve a visit to one of the local Verdiccio cantinas.
Details