Our painting holidays are based at Tenuta Gorgiana, a collection of eighteenth-century, stone farm buildings, in the 'Borgo' style typical of the region. The studios sit on the side of a hill with views across a little river and up to the fortified hill town of Camerino.  Here you can enjoy a creative atmosphere, sunny weather, fabulous food and go home feeling relaxed and enriched.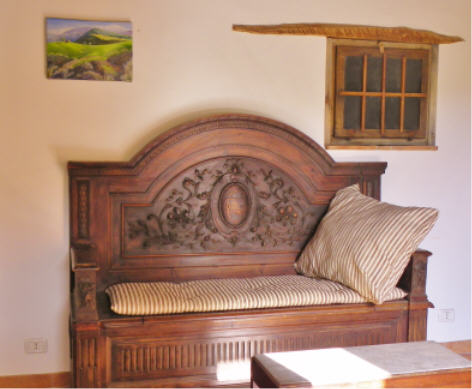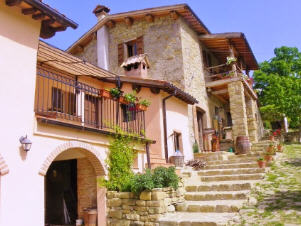 During your painting and drawing holiday, you will stay in our self-contained, second farmhouse with it's private terrace. We are situated in a nature reserve. Local inhabitants include porcupines, deer, wild boar, golden eagles and many other birds of prey.
In the farmhouse we have three spacious bedrooms (one with an ensuite bathroom, two with shared bathroom).  Whilst restoring the house we have been careful  to preserve its rustic character.  The rooms are furnished with treasures found at the local flea antique market (Pioraco, every Monday night) and the shutters are handpainted to create a theme for each of the rooms.  The 'olive' and the 'poppy' rooms  face towards  Camerino, the 'sunflower' room  faces to the west and the setting sun.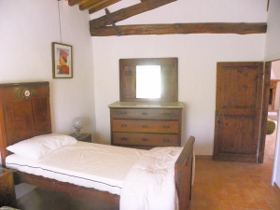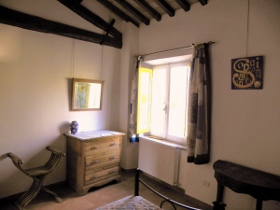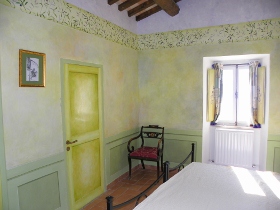 The Cassetta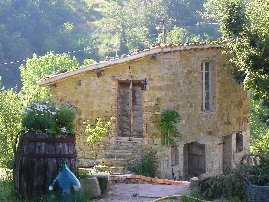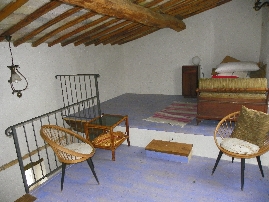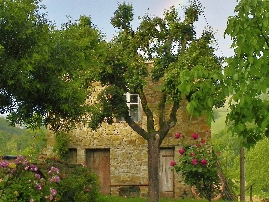 Last year we restored the "little house". A very romantic little outbuilding, slightly away from the main house (30 yards). It has a double bedroom with a little stair to a private bathroom and has views across the rose garden towards the mountains.


Other Facilities
The Studios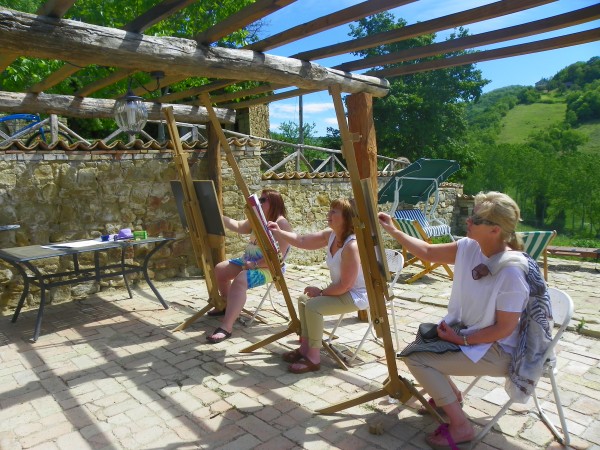 We have two large, beautiful terraces, which over look stunning views where we usually work.
Our main studio is underneath the larger farmhouse. Unusually for Italy, the ceiling is very high and the room has a lovely, airy feel. It is fully equipped with studio easels, boards, and everything you'd expect to find in a busy and productive studio. The studios are open 24 hours aday allowing artists to set their own timetable.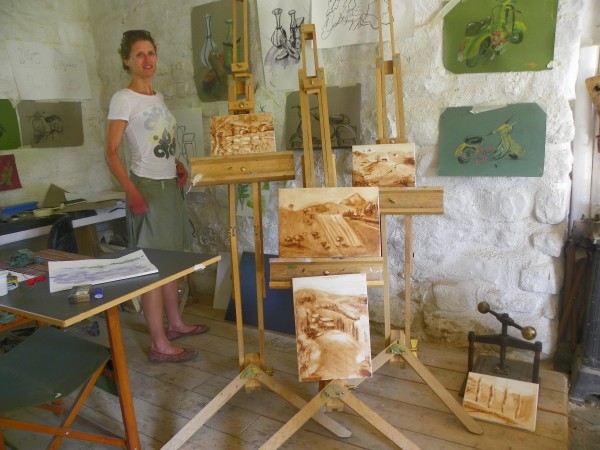 You will also find various architectural features around the grounds. The little outhouse, the gates to the old villa, – all set against the background of rolling Marche hills
Plunge Pool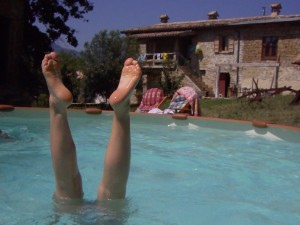 We have a substantial (6 x 1.5 metres) above ground pool, which is very useful for a cooling dip. For the more serious swimmer there is an Olympic pool (indoor and outdoor) about a mile away.
Some pictures of our house and grounds
Swipe, drag or just enjoy the show