Long Weekend Painting Workshop
£400 - ensuite private room
Non painting partner:  £250

Dates 2018
New year – December 30th '17 – 2nd Jan '18

 Easter – March 30th – April 2nd
April 19th – 22nd
The structure of our weekend workshops depends on the needs of the attending artists and on the weather.  Our most stunning seasons can be early spring and late Autumn, but weather can be unpredictable. Hopefully, however, we will be out and about sketching and painting some of the stunning scenery around our house.
If, however the weather is not obliging we can retreat to our massive, heated studio. You can paint from your own sketches, or from any of our many photograpsh.  The Studio is an opportunity to really let your creativity out.  We also have a comfortable sitting room where guests can relax and chat.
Artists arrive in the morning of the first day and after a delicious lunch we can get cracking that afternoon.  There are then two full days of painting until departing on the fourth day.
Excursions –
During your stay we would hope to get out to the local area.
Possible excurions are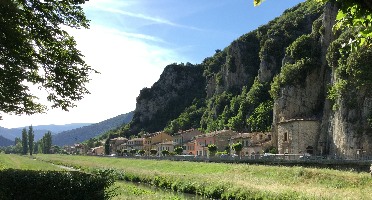 Pioraco, a picturesque little town set in a gorge between mountains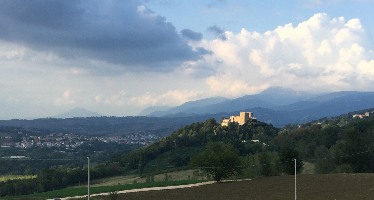 Rocca d'Ajello – a beautiful little renaissance castle visible from our property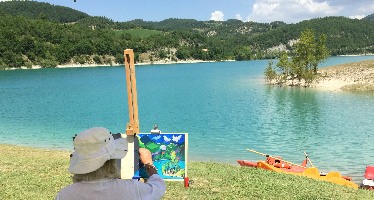 Lago di Fiastra – a bright blue lake in the Sibillini mountains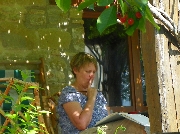 Moira, Australia, 2016
lots of learning, laughs and brilliant food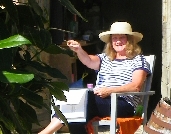 Shirley UK 2016
Wish I had done this course before I did the others, I wouldn't have needed to search further afield.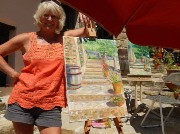 Karyn, Canada, 2013
This has been the best vacation of my life!!..... I feel I now have a family in Italy.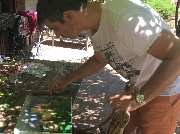 Rob, UK 2016
It has been great to 're-kindle' something that I have always loved doing.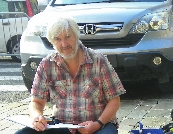 Pete UK Sept 2016

my progress has been so much more than I had hoped for.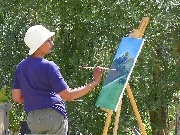 Anna, Australia 2015
Everyday has been amazing!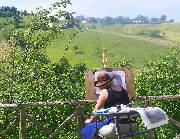 Gera, Australia 2015
  I have learnt such a lot of new techniques...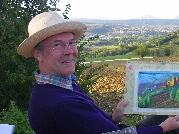 Alan , Scotland, 2016
Beautiful Italian weather and classic landscapes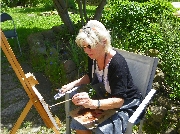 Marianne & Bjorn, Norway, 2016
I couldn't have had a better teacher!  I have been floating in the air for two whole weeks.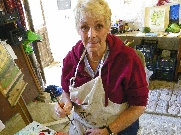 Rona, UK, 2015 Oct
You seem to attract some lovely people...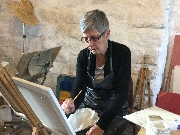 Rosemary, UK, 2016
You are so lucky to live in such a beautiful place - a painting everywhere you look.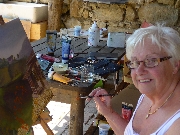 Carole & Steve, UK, 2016
I can't believe how much I have enjoyed your painting course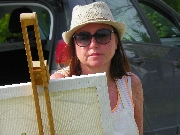 Sandra, UK, 2016
I have once again found my 'art mojo'!! It feels great!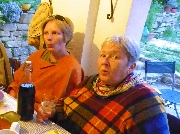 Jan & Anthea, UK, 2016
Well this holiday just has to rate as one of the best weeks we have spent in a long while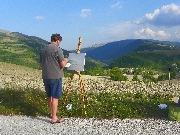 John and Alison, Guernsey, 2014
... the road to Art was paved with pasta, fig crumble, laughter and good companions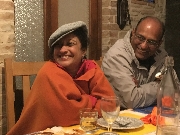 Srinath & Vasanta, UK, 2016
 Best, productive week in many, many years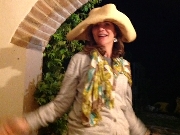 Tricia,NY, USA 2016
...you all made me feel so welcome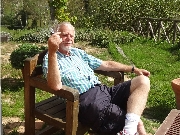 Richard, UK, 2014
...learning, laughing and lunching....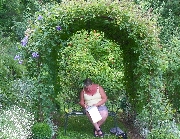 Jan, UK, 2014 and 2015
Yet another great week....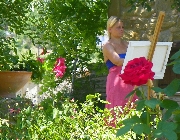 Sanni, Finland, 2015
Everything has been so great ...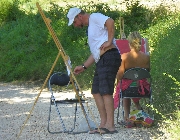 Johan, Finland, 2015
Yes, I agree totally to what my beautiful and happy wife said.
(he said other things but I feel this should be immortalised!)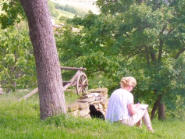 Val, UK, 2012
Happy days – painting, singing, laughing, laughing, laughing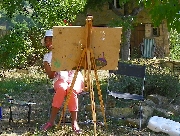 Wijitha, UK. 2015
My dream of learning painting came true...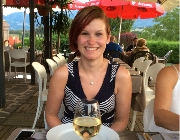 Kirsty, UK, 2015
... I cannot wait to come back

Pat, Canada, 2013
...it has turned into the best holiday I have had. (I have had lots of holidays).

Mo, Australia, 2015
 Loved it from start to finish...