Dates/Prices/booking your Art Holiday

Long Weekend Painting Workshops
£400 - ensuite private room
Non painting partner:  £250

7 Day Courses – Drawing, Painting and Journaling
£1200 - ensuite private room
Non-painting partner: £720

 12 Day Course – Painting
£1700 - ensuite private room
Non painting partner:  £1000

Extras
Non Painting partner
Whilst nonpainting partners are very welcome to join us on excursions,  a place on the minibus cannot be guaranteed, therefore car hire is strongly recommended for partners requiring independence.
Food and Accommodation Only
As the fame of Andrea's cooking spreads far and wide, we have received several enquiries about holidays without the painting (I have decided not to take it personally, some people simply don't know that they need to draw yet).
We are happy to accommodate for the price of a non-painting partner, however,  participants must come either as a couple or be prepared to stay at the local Country House, Pappafo
How to pay
Fees are paid in two parts.
A deposit of €200 will secure your place and can be paid through the paypal button below (paga adesso = buy now).  The deposit is non-refundable but is transferable (ie you can pass it on to someone else or use it on one of our other courses).  If you do not have a paypal account, don't worry, they will give you an option to pay securely by credit card.
The balance (due two months before arrival) is payable by bank transfer, we will email you our account details.  Please note that we cannot accept payment of the balance by international cheque, Western Union or Paypal.
All transfer and conversion fees are payable by the artist.
We regret there can be no participation without payment.
If you are interested in any aspects of our holidays please complete the box below and we will reply as soon as possible. Alternatively our phone number is 0039 328 9680796 (mobile or text).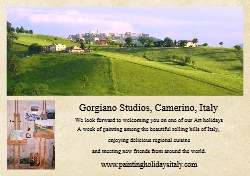 Gift Vouchers – if you are buying an art holiday as a gift we are happy to provide a personalised voucher to give the recipient on the day.
Please be very careful entering your email as this is the only way we can contact you. If you do not receive a reply please text 0039 328 9680796