Prices/booking
---
Great value courses for you and your partner
Weekly Courses (Drawing or Painting)

Price: €1100  (approx £900, $1,450) – private room
Tuition
Accommodation in private room
Airport pick up from Ancona, Perugia or train pick up from Foligno or Fabriano
At least two excursions to local towns, or castles, usually more, depending on the wishes of the group
All Food and drink including wine
All course materials and equipment including  materials for watercolour, acrylic, oil and pastel.
Personalised hand bound sketchbook of good quality Fabriano paper
Use of pool and all other facilities

Wifi access
A gourmet meal at Pappafo restaurant featuring their 9 course 'degustazione' menu showcasing specialities of the region
Non-drawing partner:
As above, without tuition, €600. (approx £500) (sharing room with painter) a car hire is strongly recommended for partners requiring independence.
12 Day courses
Price €1450 (approx £1,200, $1,800) – private room
As above
Accommodation in a private room (12 nights).
Tuition (10 days) from 9am to 6pm.
Non-painting partner: As above without tuition, €800 (sharing room with painter)
Extras
In the event that your paintings aren't dry we will charge for postage at cost.  Many artists choose to have their work sent home anyway to save carrying them around on further travels.
postcards
How to pay
Your booking is confirmed with a €200 deposit per person, which is non-refundable but is transferable (ie you can pass it on to someone else or use it on one of our other courses), and can be paid using the paypal button below.  UK artists are welcome to pay the deposit by BACS transfer.  Please apply for account details.
The balance is payable  by bank transfer, details on application, and is due 2 months before the course starts and is also by bank transfer. We regret there can be no participation without payment.
If you are interested in any aspects of our holidays please complete the form below and we will reply as soon as possible. Alternatively our phone number is 0039(italy) 0737  632249.
Please note: We always reply to all emails, so if you haven't heard from us please check your junk box.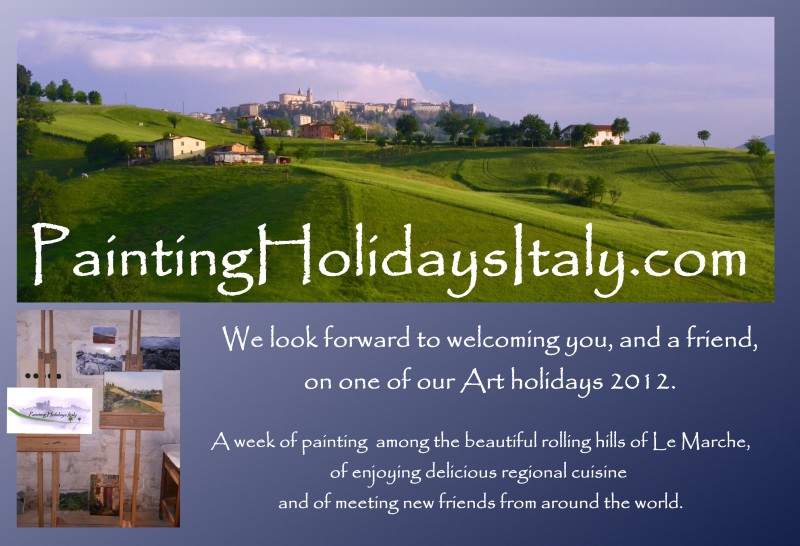 Gift Vouchers – if you are buying an art holiday as a gift we are happy to provide a personalised voucher to give the recipient on the day.
If you are interested in any other possibilities, such as private groups or studio use only, please contact us to discuss details.