Kind words from our artists
Please read what previous visitors have to say about our holidays to see if what we offer would suit you.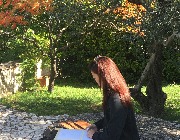 Thank you for an amazing week! People back home will never believe that there is such a gem of a place here in Montegemmo.  They're just going to have to come here and experience it for themselves.  I'll miss the amazing food, views and laughter (not forgetting the journaling and sketching).  Thank you for housing us, I will truly miss you all.  I'll be awaiting your arrival in Singapore for the next story slam.  Amelia (Singapore)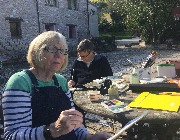 Wonderful tutor, charismatic chef ….. good company, excellent food and amazing journaling!  What more is there to say, we totally endorse all other comments,  Anne and Roger Pyne (UK)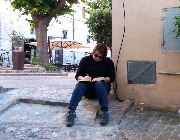 I had a blast.  Staying in your home and doing journaling and sketching will surely be a highlight of my trip!  I will never see the world the same again.  The yellow ion the trees, shadow everywhere and damn perspective everywhere (so get used to it).  I didn't think I could do it but I did.  Thanks for the laughs.  Cheryl (Australia)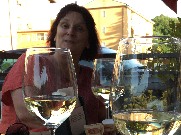 What a wonderful, incredible, inspiring week.  Such kindness and giggles and learning to paint.  Times I will never forget.  June (USA)
Photobook Journaling June 2017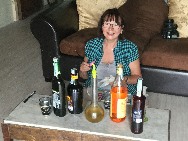 This home has an axolotl, Whose name isn't Aristotle. It makes him sob, They have named him Bob. They must've been on the bottle. Julie (UK)
Photobook Journaling June 2017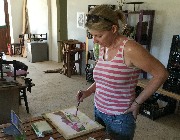 Thank you for sharing your home, your family, your wine and wisdom.  What a magical week – until next time…
PS you have a magical touch being able to take me from almost novice with , implausible trees. To painting castles within a week.  Susie (UK)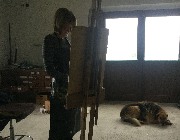 Thank you for opening your home to strangers eager for the Italian experience.  What a beautiful region to sketch, paint, eat and travel through for a week.  I relaxed, looked at views in new ways.  It was your kindness and generosity of spirit with great company that will remain as fab memories. Sandra (Australia)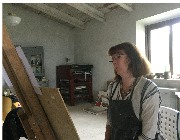 Thank you Caroline, Andrea, Maisie and Nicoletta, for opening your lovely home to me – I enjoyed the peace and beauty of the whole area – misty mountains are so inspiring.  Holiday highlights –dolls – being taken for a walk by Spike and his cats – Muffin – Macramé – marvellous meals – warm company – all this and I actually managed to paint something I plan to frame Pam (UK)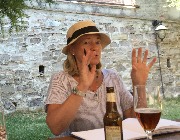 I arrived with my head full of nursery rhymes, fairytales and feeding schedules and a total incomprehension how to make a meaningful mark on that empty age.  Somehow my sketchbook has filled and I see shade and tone, light and dark everywhere I go!  It's been a transformational week!  Caroline and Andrea, your hospitality has been superb, you are both so thoughtful and attentive – the food has been SO delicious, and your instruction, Caroline has been clever, encouraging and very funny!!  Thankyou, Thankyou.
Julia (UK)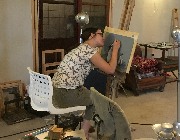 I have had an amazing week.  I have learnt a lot and gained confidence in my drawing.  The food, people and laughter is what I will remember the most and maybe a tip or two from my lessons.  Thank you and remember your tentacles.  Sarah (UK)
Sept Drawing 2017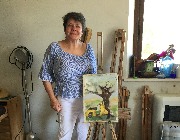 Thank you for the most wonderful holiday.  I could not have wished for more.  Felt so welcome and immediately at home in your new house and settled so easily with the delightful days of exploring the local area and lazing in the shade.  I know the inspiration you have sparked in me will last long into the English winter nights, well, in fact, as long as my memory lasts.
I so enjoyed the wonderful food prepared by Andrea and I will wake up tomorrow wondering where my breakfast is and who stole the view of the valley!!
Such great company, Susie, Elaine and I will meet in Windsor soon to reminisce.
Feeling a little sad to leave the warmth of your lovely family (including Spike, Muffin and your beautiful girls). But knowing a little piece of my heart will remain (along with my silly hat in the studio). A promise to return to take up the brushes and paints again.  Lynda (UK)
Photobook PAINTING JULY 2017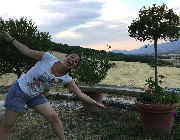 Yo dudes
I'm hardly the first to say this but you are all awesome! Thought about leaving it there but it would hardly be like me!  I've had the most fantastic time. Having been nervous about my first solo holiday, I've made such fantastic friends here and cannot wait to come back.
Everything has been a highlight, from Muffin trying to a human, to Ninja terrifying Lynda, to Spike protecting us all.  Romeo and Mirando just being the coolest kitties, and of course (given you've just prompted me) the irrepressible axelotl Bob, to Andrea's exquisite cooking, the girls' hilarious stories of their travels and lastly but certainly not least, Caroline's wonderful tutoring and occasional lapses of memory.
Thank you for sharing your home with us this past week, and for sharing your food, wine, whisky and happy juice.
All being well, I will see you next year for more sunshine, partying and laugh-out-loud fun.  Elaine (UK)
Photobook PAINTING JULY 2017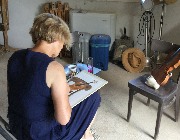 Thanks for a wonderful week, full of art, good food/drinks and good company Winifred (Netherlands)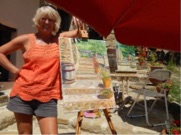 This has been the best vacation of my life!! I came for the painting but just as much loved the food and wine and fantastic company.  I feel I now have a family in Italy.  Le Marche is the place to be, who needs Tuscany!!  I've learned a lot, drank a lot and ate a lot.  Will be needing a bigger wardrobe now.  Karyn (Canada, August 2013)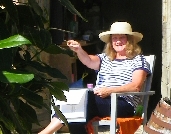 Thank you so much for welcoming me into you lovely home and family.  An amazing experience with an amazing 'mummy' (no fee required).  So much learned, memories made, gorgeous food and excellent wine.  Wish I had done this course before I did the others, I wouldn't have need to search further afield.  Shirley, UK, 2016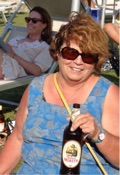 After thinking of many ways of getting out of this holiday due to my lack of experience it has turned into the best holiday I have had.  (I have had lots of holidays).  Caroline is such a patient teacher and has taught me to see things that never used to be there for me.  Andrea is a magnificent chef and gave us food I have never had before – everything a taste treat, especially that chicken and bay leaf etc..  Maisie and Nicoletta made the family whole, you girls are the best.  Magda and I have a special bond even though she has a poopy bum.  I have felt like family from the day I arrived and it is sad to be leaving.  Glad you're sitting where you're sitting, Caroline, and I think your glasses are on the table.
Pat (Canada, August 2013)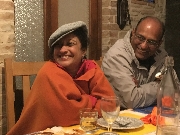 We have had a fantastic time at your home.  You are wonderful hosts.  Caroline, you are a wonderful 'art' teacher and you taught me in a relaxed state of mind and introduced me to the world of drawing and enjoying it.  I have learnt more in this week than in many years of hoping to be able to draw.  Best, productive week in many, many years.  Thank you.  Andrea you are a wonderful chef, you made us the best Italian food we have ever had.  Thank you for letting Vasanta join you in the kitchen and , of course, allowing her to cook.Thank you for everything.  Srinath and Vasanta, UK 2016
PHOTOBOOK DRAWING MAY 2016
Photobook painting June 2017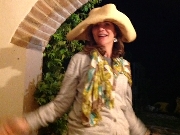 I was hesitant to take a holiday alone, especially so far from home and in a part of Italy with which I was unfamiliar.  From Caroline's patient email responses, to Andrea's 'Goodfellas' imitation – from Maisie's yummy Bogtotters Chocolate cake and Letta's heartwarming giggle (and photo of Yussien) you all made me feel so welcome.  We were fortunate to have such a lively and lovely group of guests (all of whom I hope to run into in rehab).  Caroline, I promise to stop seeing the world as lines.  I wish you all a wonderful summer and hope you aren't too challenged in having such a humorous gang as us in your coming sessions.  Thank you Andrea, for the most amazing meals and Caroline – Thank  you for a most valuable and rewarding week of art instruction and good laughs (PS you are all welcome to visit my home ANYTIME!!).  Tricia, NY, USA 2016
PHOTOBOOK DRAWING MAY 2016
Photobook painting June 2017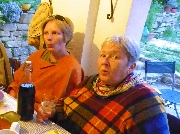 Well this holiday just has to rate as one of the best weeks we have spent in a long while! We have been in the company of fine friends and the most warm and inviting host family.  Caroline has steered us towards our artistic goals with patience and good humour.  Andrea's meals were so appetising and expertly prepared and cooked with the 'love' of a true Italian.  Wonderful!  We have both learnt so much with the best Art tuition, the best food and fun and laughter every day.  Is it wine time yet?.  A truly wonderful time in a stunning setting with you all and our lovely fellow students – We really loved it!  Thank you so much.  Jan & Anthea, North Yorkshire, UK
PHOTOBOOK DRAWING MAY 2016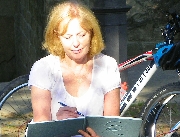 Eventful, exciting, fun, hot, sizzling, greedy, full, picked, happy, happy, happy.  I have learnt so much about how to paint and how to relax… Your welcome and care of your guests has been wonderful, I absolutely love painting with oils, Thanks to Caroline' patience and determination.  Amazing, fabulous food every single day.  Chris, UK, 2016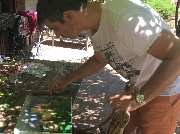 Thank you for a wonderful week – it was a great break for me.  It has been great to 're-kindle- something that I have always loved doing.  Thanks for your patience, Caroline, and for the gastro experience, Andrea.  Shame about Brexit, but nothing that wasn't put right after a few liqueurs!.  Rob,UK, 2016 PS.  Brigadooon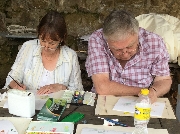 Many, many thanks for a fantastic week.  Excellent company and fine food.  We've both learnt a huge amount and hopefully have gained some new skills!  Phil and Jo, UK, 2016
Photobook Journaling June 2016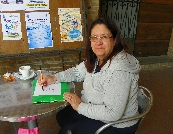 Grazie per questa  bella esperienza e soprattutt grazie per aver fatto passare le paura del 'folio bianco', ho imparato tanto in questa settimana, spero di tornare … Tiziana, Italy, 2016
Photobook Journaling June 2016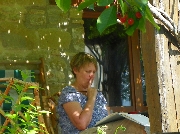 Thanks for a great week, lots of learning, laughs and brilliant food.  Never forget Rob and 'Brig O Doon' and Richard's wonderful array of mysterious tattoos and Jane's quiet encouragement. Moira, Australia via Abu Dhabi, 2016
photobook painting june 2016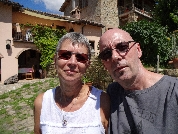 Thank you so much for your brilliant hospitality and for making our stay such an enjoyable one. Together with the gorgeous weather and the excellent company, everything combined to create an unforgettable holiday, fitted with artistic inspiration and culinary delights!  And….. we have the sketchbooks and pieces of art to prove it! Richard and Jane, UK, 2016
photobook painting june 2016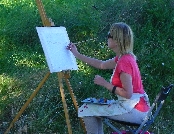 Thank you so much for a wonderful and very memorable holiday!  I've come away with new confidence to try new things, the knowledge that I can draw and so many different ways of painting.  Miraculously I haven't even put on weight with the wonderful food.  Thank you so much.  I am sure I will be back.  Tracey, UK, 2016
Photobook August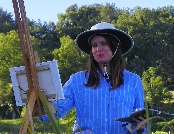 Thank you for a super painting holiday Caroline it was brilliant.  Thanks for all the delicious food and the chocolate cake.  Jess, Ireland, 2016
Photobook August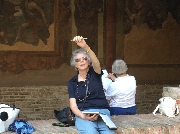 Thank you all for making this such a fun filled week!  What great tuition – I learnt so much – with great companions too and patience and humour! Andrea's cooking was just scrumptious and your daughters both charming and such fun.  What a credit they are to you.  Spikey was, of course, a special favourite – he prefers Scotland, I know…. I am to return.  Rhona, Scotland, 2016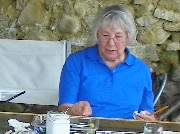 Thank you for our lovely Italian holiday.  The tuition was the best ever and the food was wonderful too.  Both girls were a joy .  The four cats were always there and looking well fed and loving.  Dorothy, Scotland, 2016
photobook Painting September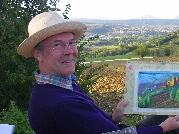 Thank you so much for a lovely relaxing time, learning drawing and pastels, going to surrounding towns and eating the most fabulous food.  Beautiful Italian weather and classic landscapes with every colour under the sun, even for those with a touch of colour blindness.  Ciao Alan, Scotland, 2016
Photobook Drawing September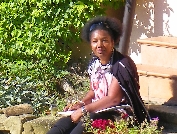 What a great business concept and excellently executed!! The Garden and views are perfectly inspiring.  Not sure I'll get into that bikini next week… Thanks to the amazing meals.  Home from home with 5***** quality flair = fabulous. Caroline, I've learnt loads… I can now see with new eyes… yeahh.  Perspective and drawing straight lines – phew.  Thanks for not strangling me, as I rather like my neck… Stay exactly as you are.  Verna, Germany, 2016
Photobook Drawing September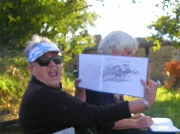 Thanks for a great week – beautiful one day – perfect the next!!  One day I might get the lines going in the correct direction.  Lovely animals – perfect Spike, not so perfect she-devil cat.  Peter's pals.  Learnt a lot.  Barbara, Australia, 2016
Photobook Drawing September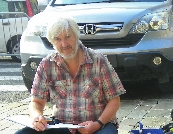 Thank you Caroline and Andrea for a fabulous week.  Great location, great weather, delicious food and great tuition.  I've learnt so much in such a short time and my progress has been so much more than I had hoped for.  Caroline you're amazing!  Pete, UK,  2016
Photobook Drawing September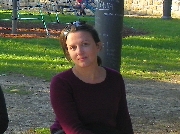 Thank you for such a smashing week.  I particularly loved the enthusiasm.  I think my new phrase will be it's wonderful but….  Beautiful place, great company, fab instruction and out of this world food.  I will particularly miss foraging for mint (nuts, figs, fennel,).   Now one thing – you managed the fire brigade and ambulance but no cute police in uniforms.  Room for improvement.  Thank you Diana , The Haig,  2016
Photobook Drawing September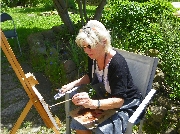 This has been a unique, very successful experience for both of us.  I, Marianne, had one goal: to learn as much a possible.  That goal has been achieved thank to Caroline's teaching abilities.  She has really given all of herself and taught me things I always wanted to do.  I couldn't have had a better teacher!  I have been floating in the air for two whole weeks.  Andrea's wonderful cooking and caretaking and the relaxing atmosphere created by the whole group has made it into a marvellous stay!  I am thankful that Bjorn was here and could enjoy himself with his trumpet playing, telling his jokes!!  Altogether it has been great fun and far more than we expected!  Thank you all.  Marianne and Bjorn, Norway, 2016
Photobook Painting 12 day, May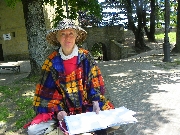 These last ten days were the dog's b******. Great fun and geat tuition and great food.  Thank you.  Damit Janet, UK, "2016
Photobook Painting 12 day, May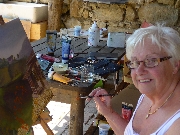 I can't believe how much I have enjoyed your painting course.  But it's more than that, it's a house party which lasts for 12 days.  Nothing is ever too much trouble for any of you and I marvel at your patience, Caroline, especially with my drawing and paint splattering.  I've learned a lot and hope to go home and put new skills into practice.  You've sold oils to me for certain.  As for Andrea's cooking, it was second to none.  Carefully thought out menus and perfectly cooked.  Steve thoroughly enjoyed his 'adventures' in the car and feels he knows your beautiful area inside out.  We have both enjoyed the mealtimes as a group and have many happy memories of the fun we had together.  Good luck to all of you for the future.  Carole and Steve, UK, 2016
Photobook Painting 12 day, May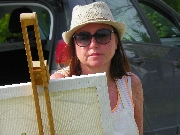 Wow! 12 days has certainly flown by and I've enjoyed it all.  After more than 25 years I have once again found my 'art mojo'!! It feels great!  Thank you so much for being patient, supportive and for sharing your skills as an artist to help me learn. My painting  technique has developed in such a short time and you have given me confidence to continue back in the UK.  Thank you!  Above and beyond this is the astounding hospitality from you and your family.  Andrea's meals are second to none and for the first time I feel like I am eating genuine Italian food.  The added bonus it that we can all get together as a group and have a laugh at the end of a hard day of painting.  My time with you all has been a memorable one and it's been great fun!  Long may it continue!  Sandra, UK, 2016
Photobook Painting 12 day, May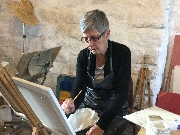 Thank you so much for a wonderful, memorable holiday! I'm so sorry my friend couldn't come but you have helped me to enjoy myself so much anyway. I've learnt a lot (have to remember everything to report back), have seen new places, eaten lots of beautiful food and enjoyed plenty of wine. Definition of a good holiday fulfilled. It has been great meeting all of you and the other members of the group – such a happy, friendly set of people. They and you have made the stay a real success! You are so lucky to live in such a beautiful place – a painting everywhere you look. Thanks,
Rosemary, Yorkshire UK, 2016
Photobook Painting 12 day, May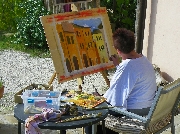 Thank you so much for welcoming me into your family. This added a very special something to my time in your home.
Caroline you were something else! I've produced a number of sketches, watercolours, paintings and a rather disastrous oil – due to my buildings phobia. You have, however boosted my confidence on that front (and others) so I promise to look buildings in the eye now and go for it! Thank you for the fun and laughter, brilliant tuition, and Andrea, food to treasure. Uno games to remember and the loveliness of M and N not to miss out the animals ……….. See you in Brighton Soon. DEE, UK,2015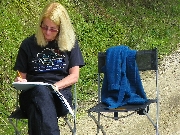 What a beautiful home and family you have. Also loving your 4 cats, dog and Bob the fish/reptile. I (and Caroline) produced the best paintings of my one year of painting oils. Plus I have now some sketches , and water colours. Have never tasted such a wonderful lasagna, quail and wild boar amongst numerous other creations.
Thanks to all of you… Look me up when you come to Canada. Nancy, Canada, 2015
Photobook October 2015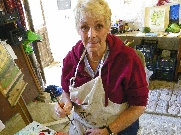 What can I add other than yet again you have excelled. Have actually learned some more, but most of all have had a great time, you seem to attract a some lovely people who make things so great. Shame I didn't like the green stuff, but maybe next time. Not least Andrea's food is fantastic and your teaching is next to none, Rona, UK 2015, October
Photobook October 2015
Loved it from start to finish in spite of my wrangling with oils. Your home reminds me of mine in many ways but my menus will have to improve if I'm to keep us with Andrea's wonderful cooking. I'll tell all my friends about this course so you can spread the love. Maureen Whittaker, Australia, 2015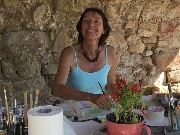 Thank you all for a beautiful week with lots of painting, laughter, delicious food and great company. And thank you to the spirits of the land, plants and animals for welcoming us
Love and best wishes Arihanto
Photobook September 2015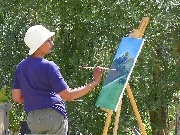 What a wonderful week of painting, fine dining and warm hospitality you've offered us!
Everyday has been amazing! A new vista to sketch, or paint (and photograph). I could have stayed here for longer. Thank you, Caroline, for making me re-discover my love of painting. Arrivederci, I hope to return next year. Anna and Glenn, Australia, 2015
Photobook September 2015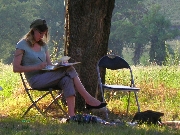 Thank you all for a wonderful 'holiday'. This could not have been more perfect for me. The setting was so idyllically beautiful, and your home as amazing, filled with so many nooks and crannies. The art lessons were just perfect – just the right pace and geared precisely to my needs. Caroline – you are absolutely wonderful – as a teacher and a person. I appreciate your laugh and all your great stories. Andrea's cooking was just amazing. I will forever remember the smell of rosemary and garlic wafting through the air. Thank you again. Fantastico! Figo!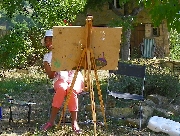 It has been a lovely time with you all. I will miss you all, especially Caroline's patience, to work with me on mixing colours (you opened my eyes) and Andrea's lovely vegetarian food (I will remember them forever, my Italian authentic taste). And the company of all. My dream of learning painting came true and thanks for setting up Gorgiano Studios in Italy, and look forward to see you all again.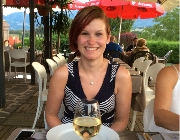 Once upon a time, there was a (not so) young girl who thought she might like painting – but after years at school being told she was no good, Anything she did was kept hidden away under the stairs. Then, one day, with her thirtieth birthday looming she decided to take an adventure… She was very nervous when she arrived in Italy: What would every body be like, what if she really was no good at art? However…. The family the girl stayed with were LOVELY! The teacher was patient and gave great advice, and the chef cooked the most amazing meals. On her journey, the girl met four lovely artists all on their own adventures, and with them visited great places. Oh and it turned out, that with a lot of help, the girl was pretty good at painting too! Thank you sooo much all of you! I cannot wait to come back. I have honestly had my best holiday ever!! Kirsty UK, 2015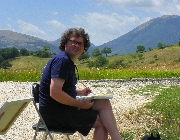 Thank you for an amazing 2 weeks – exactly what it said on the tin. Beautiful scenery, delicious food, lots of laughs and of course the painting. You were very indulgent with my 'suggestive' church towers and I hope that this did not compromise your artistic principles too much. I am indebted to you for finding the inner watercolour painter, although the oil painter is slightly more deeply buried. The food was wonderful and the icing on the cake was that it was prepared by a Bruce Springstein lookalike. So long and thanks for the flying baby heads – I will be back! Simon UK, 2015
Photobook July 2015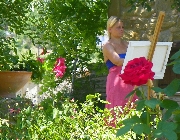 We have enjoyed a wonderful holiday at your home in the stunningly beautiful landscape and HOT weather! It is hard to say what was the most memorable, since EVERYTHING has been so great! We loved Andrea's excellent cooking, our 'home' in the cute little house, the field trips, Caroline's gentle advice in painting, the green stuff in the evenings, the red wine without headaches, the pool, your fun kids, even the scorpions. And of course the Flying baby heads! I am especially thankful and happy about the advances I managed to make in painting thanks to this course! Thank you! Sanni, Finland, 2015
Photobook July 2015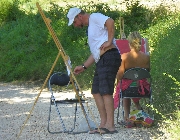 Yes, I agree totally to what my beautiful and happy wife said, painting is a joy in your hands and we had a great time with all the value added. Thanks for the North African Wheat. Johan, Finland, 2015
Photobook July 2015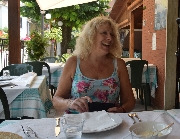 From geranium pot to ostrich – all in the space of one week – thank you, Caroline. Andrea – what can I say – your stonkingly good food has progressed me to elastic waistbands – all in the space of one week!! Thank you, Maisie for your care and delicious desserts and thank you Nico for being you. Altogether a truly unique experience and an 'AMAZE BALLS' week. thank you all so much.
Sue, UK, 2015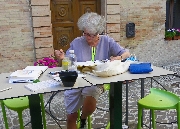 This has been an amazing, unexpected and most enjoyable week – so thank you Caroline, Andrea, Maisie and Nico – all of you, for wisdom and advice, terrific meals and lovely company of the younger family members (including panacotta) I won't forget Mr Viridian with his asbo and the Great General purple… Good fun, truly – grazie.
Sue, UK 2015
Photobook, July 2015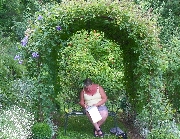 Yet another great week in a fantastic location and wonderful people. I have learnt a lot and hope I can put it all into practice. Fantastic food, Andrea but don't tell Rudi!
Jan, UK, 2015
Photobook, July 2015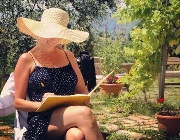 Your house and gardens are like a fairytale…..and this is the best food I've had in Italy. Thank you !!! I plan to put you all in a book, including Bob (the axelotl). Grazie
Michelle, US, 2015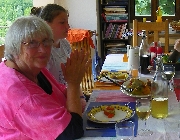 It has been such an inspirational happy week. Your family is delightful and I have enjoyed their company wonderful food, vino, fun and your great tuition. The studios are a special beautiful place and I hope to come back soon. Thank you. Judy, UK, 2015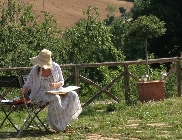 As I wished and hoped for: green, all shades of green, wonderful nature, peaceful but not at all boring. Bit of yellow and gold and purple mountains of course. It will stay within me for a long time. In my watercolours and house painting as well, I hope. Thank you for sharing your family, your animals and Bob! Thanks to Andrea for lovely home made food, mmmm Thanks for being my unexpected first ever tutor
Renata, Croatia, 2015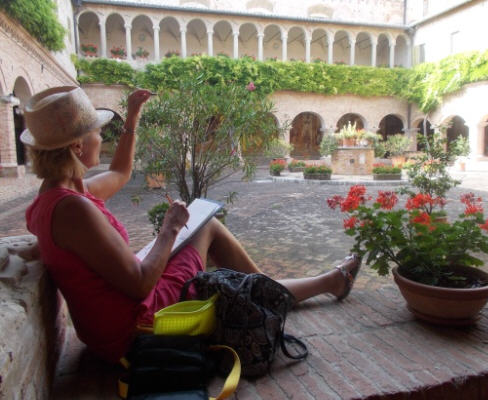 I came on this holiday to find the 'old' Tina after a few trying years.  I had no idea if I could draw or paint, but I am leaving here feeling so much more positive about myself and yeah, I think I can draw and paint a bit!!!.  Thank you to all of you for the great two weeks, where the food was wonderful and plentiful and the wine flowed.  The lease I could do was to leave you with the legacy of the Gorgiano Black Run. – Enjoy and think of me when you share this delight with new 'inmates'  Good luck and lots of love for the future.  Hope to see you all again Tina, UK 2014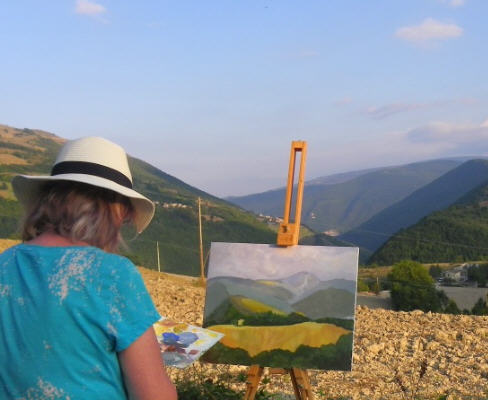 This painting holiday has been a dream of a lifetime  for me, and hasn't disappointed.  The guidance, encouragement and positive outlook is welcomed.  The location is FABULOUS and the environment has provided a wonderful Italian experience.  Thank you all, Rudy Maisie and Laura and Caroline in the kitchen, for introducing us to delicious crumbles and amazing varieties o pasta EXCELLENT Liz Canada, 2014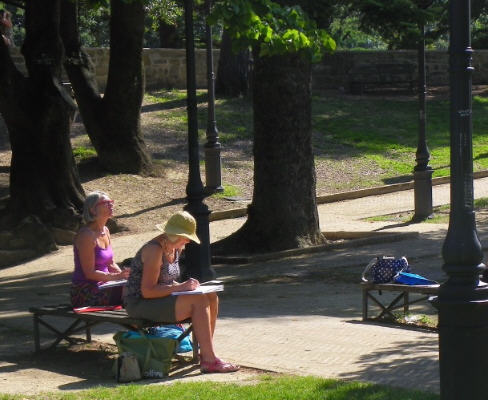 Thank you for a terrific week in you wonderful home Caroline.  I will go home with memories of the delicious meals, good company and of course you patient tuition … oh and the lovely spike and Nerina who was determined to make friends..  and Maisie's delicious baking and… and… It was a brilliant week! Hazel, UK 2014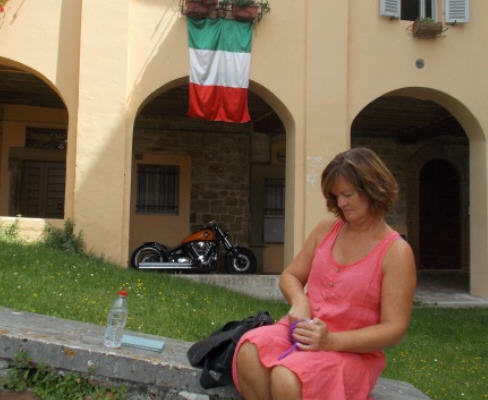 Thank you so much for a wonderful holiday the food has been fantastic and the teaching kjempegod (champergot- really good).  Thank you for your hospitality, You are such lovely People.  I am inspired to go on painting. Britt, Norway 2014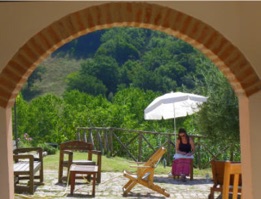 Thank you to Andrea, Caroline, Maisie and Nicoletta for having me for 12 unforgettable days.  Your generosity in all areas had made this a the superior painting holiday.  My aim was to get inspired to paint when I return to Australia.  I have more than achieved this, Caroline you have opened my eyes to so many things, techniques, mediums, the importance of focus, semi-opaque!! and many other nuggets.  Aside from the painting the whole experience has been great.  You have a gorgeous home and family.  And it has been one big laugh.  I hope to see you again – Love Leah, (Australia, August 2013)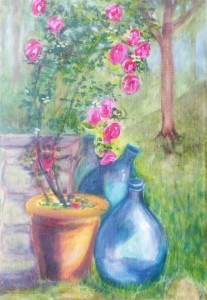 "Thank you, Caroline, for the for the very encouraging and very patient tutoring and not making me too nervous about making a mistatke. I learnt so much, loved your sense of humour and your intelligent way of seing the world and explaining things so well.  Andrea – your meals were excellent and done with great care.  Loved my stay here, learnt so much. – So, so beautiful (so relieved you were not 'cellar' people!!) – you guys live in paradise and enjoy life, we can all learn from you!!  PS Never thought a beginner would go home with such lovely paintings – Thank you.!"  Therese, Cape Town, South Africa 2013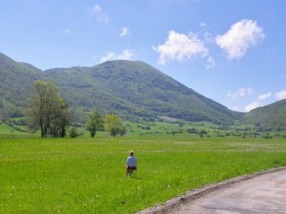 "What a joy it has been to paint all day and be fed delicious food and not have to think about anything else.  ….. I have acquired a basic understanding of measuring and perspective thanks to Caroline's expert tution and endless patience.  Phew!  We are looking forward to showing off our efforts back home and my only concern is that the customs may stop us bringing our masterpieces back into the country.  I have loved being part of your delightful family life …. the girls are a credit to you.  … I would unreservedly recommend this holiday to anyone who wants to improve their painting/drawing ability, the tuition is altered to everyone's ability.  In the same way Andrea cooks fantastic dishes tailored to the individual's requests.  As I said before its been a gas.  Many thanks" Angela, London 2013

"What a difference a week makes….. I never in my wildest dreams imagined I could produce such 'great works of art'.  …. A great big Thanks to you for being such a delight and to you all for welcoming us into your home and family.  It truely is the icing on the cake.  I will miss your friendship and professional guidance, Andrea's amazing cooking and the laughter" Shiela, London 2013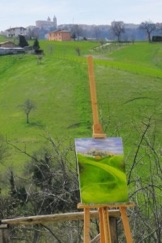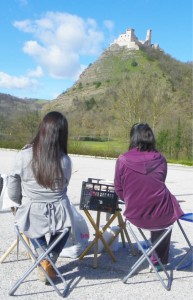 "It was so nice to spend one week of my holidays here with you, your family and Mary.  I love the place where you live and I think I fall in love with Italy and it's 'adorable' places.  This week I have learned a lot, but mostly I learned to find my own style and to have faith in what I do.  Also I had a lot of fun, I will never forget the wine, the cheese, pasa, tiramisu, the beautiful landscapes, the music, cold colours like blue, capuccino, the cats, the rain in wour 2 minute sketches and of course your drive and Tonino's party!! Sol, Argentina 2013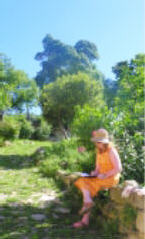 We had such fun this week in our attempts to paint and draw!  Caroline, you are the most brilliant teacher and have managed to cover so much in such a short space of time.  I genuinely feel that I have made a great friend and hope that if you ever pitch up in Yorkshire you'll come to see us and we can continue laughing!  Andrea, your food has been absolutely heavenly, I have enjoyed every last bit of it (and a special mention must be made of the headache free red wine!) …….Really do not want to go home tomorrow – I have found paradise!! Please stay in touch.  Sally, Yorkshire (2012)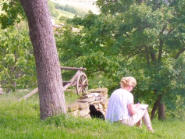 Someone said "Life is Art", and you have taught us about both!  40 suddenly feels fabulous.  Thank you, thank you.  So happy to be with you.  All the best to you and yours.  Happy days – painting, singing, laughing, laughing, laughing.  Val, Yorkshire (2012, 40th birthday present)  Nuts in May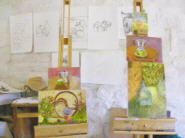 Our 40th wedding anniversary week away with a huge difference; out went the rule book "try something new.. together".  The gamble paid off… what a hoot, we felt we were staying with lifelong friends and we have loved every  minute of our stay.  What a smashing family, wonderful hosts, great food.  We loved our intro to oil painting and feel quite emotional at what we managed to achieve.  Many thanks.  Nick Gras, UK, May 2012  Custom holiday for Glynis & Nick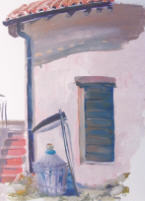 Thanks for a wonderfully full, relaxing yet intensive few days, boundless hospitality and warmth, superb gourmet meals.  It was an absolute delight to meet you and the others in the group.  Mille Grazie.  Jenni, Isreal (2012)
What can I say that has not been said yet!  the warmth of your family, the obvious harmony reigning in this enchanted  environment, all of it made for a perfect stay.  Thanks for everything – especially to Andrea. Tilly, (non painter) Isreal (2012)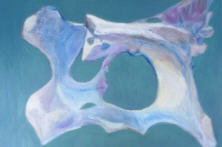 Thank you for the two wonderful weeks, it was super!  Andrea, the food was extremely delicious!  Caroline, sorry for using your supply of acid yellow.  I learned so much from you, found new colours and forms, created a few lovely boney monsters and will think about perspective now and then in the future.  Again: thanks for your hospitality and enjoy life forever.  Margriet, Netherlands (Aug 2012)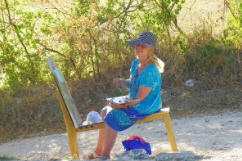 Shall we call this the Fortnight of the Falling Figs?  It has been a theme.  you are a lovely and memorable family, each so talented and special.  I have learned so much art, in painting and drawing, and in food!  Caroline,  – perspective at last!  Thank you for your gentle tutelage.  You have a beautiful home in a special corner of Italy and I thank you for sharing it with me.  Anne Emerson, Boston USA (2012)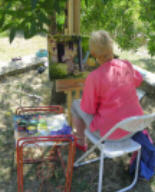 The best painting holiday I've ever been on, (and there have been a few!). So many thanks to Caroline and Andrea for the most wonderful holiday.  I have learnt so much and eaten so well that it belies belief.  … You should  be very proud of your lovely home, it is a fantastic place, except for kettles and hats.  See you next year.  Rona Miles, Northumberland (August 2012)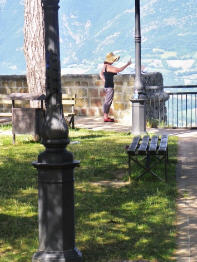 What a superb 50th birthday surprise for me! Thank you both for a wonderful time.  What bliss to spend a week here painting and drawing in these lovely surrounds and with such great company! Caroline, you are a great teacher, you know just how much to challenge us, and Andrea, your wonderful food creates a perfect way to end each day, great fresh food, wine and friends!  This has been a very special experience.  I hope we can come back soon.  Thanks John for this amazing gift.  Michelle & John Gilmore, Australia, June 2012 Antipodean June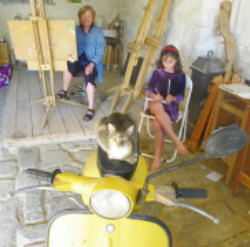 A fabulous week, Grazie mille.  Thank you Caroline, Andrea, Maisie, Nicoletta, Spike, the cats, a grasssnake and a scorpion.  I have 'lost' bad habits and 'found a new good drawing style,  I have enjoyed a very personal and thoughtful programme including Italian icecream, eaten the most delicious food – delizioso, 5 stelle or 11/10, il cibo & vino eccesionale, Wow!  Charmed by two lovely children.  A very memorable week to be cherished.  Speranza a presto! Julie, UK, May 2012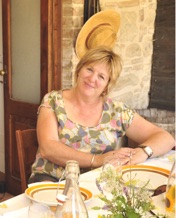 Coming home everyone asks "what was the highlight of your trip?" I have to say that my week in Italy was. Partly I guess because it was 'my' week, but also everything just exceeded my expectations. The painting, and learning gained (I hope this will translate onto paper/canvas) was fantastic. Anna was certainly a great choice of tutor and was very encouraging with it, but it was also great to learn from each other and the mix and connection with the whole group was fantastic. The food, Andrea, was delicious. Thank you so much for all your hard work and hospitality. The wine was exceedingly drinkable… I am hoping having regular wine with lunch, followed by a siesta will take on here.
You live in a very beautiful part of the world and I hope you will never tire of looking at your view. Speaking of which, I have my painting at the framers, waiting to be hung in the smallest room in the house when done!…Lovely to meet you Caroline. I really enjoyed your humour, thank you for your encouragement and all the best with your future courses, you have a good thing going.  I will certainly be recommending 'painting holidays in Italy" to anyone who wants a week to treasure forever. Mary, New Zealand, 2011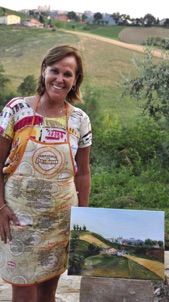 "I'll look back on my week of painting in Italy with a smile on my face! That really was a lot of fun…I loved the farmhouse setting in the rolling hills, the rustic art studio, my cozy room…the delicious Lunches and dinners…Thank you Andrea! Sipping a glass of wine or a cappuccino and chatting around the table, and of course painting the Italian  hills and Camerino in the distance! Nicoletta and Masie added so much to the week…Thanks Masie's for the encouraging words, and for making me not one cake, but a birthday cake as well!" Betsy, Australia, 2011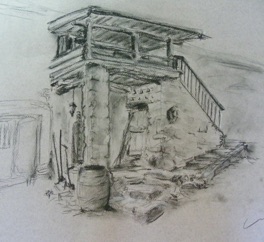 Thank you so much for sharing your expertise and encouragement over the week. I cannot look at anything now without thinking of shade, tone, shape and negative space – funnily the latter seems more critical than anything. I found the entire week relaxing and restorative. Much of this was due to the evident development of my art – from zero to something I could show someone and I will, for sure, try and keep the skills going and growing. But much too was due to the excellent company, the superb food (and drink of course) and the attention to detail and care for us – Maisie certainly has a future in hospitality if she wants it!
Thanks to you – to Andrea, the in-laws and the girls – and who knows maybe I can graduate to a painting class next year.
Mark (Prague) 2011
"grazie per il meraviglioso tempo diviso con voi in un posto dove i colori e i sapori si mescolano in un'armonia magica piena di melodia……."  (Thank you for the wonderful time spent with you where colours and flavours mix together in a magical harmony full of melody) Maurizio, (incurable romantic) Roma